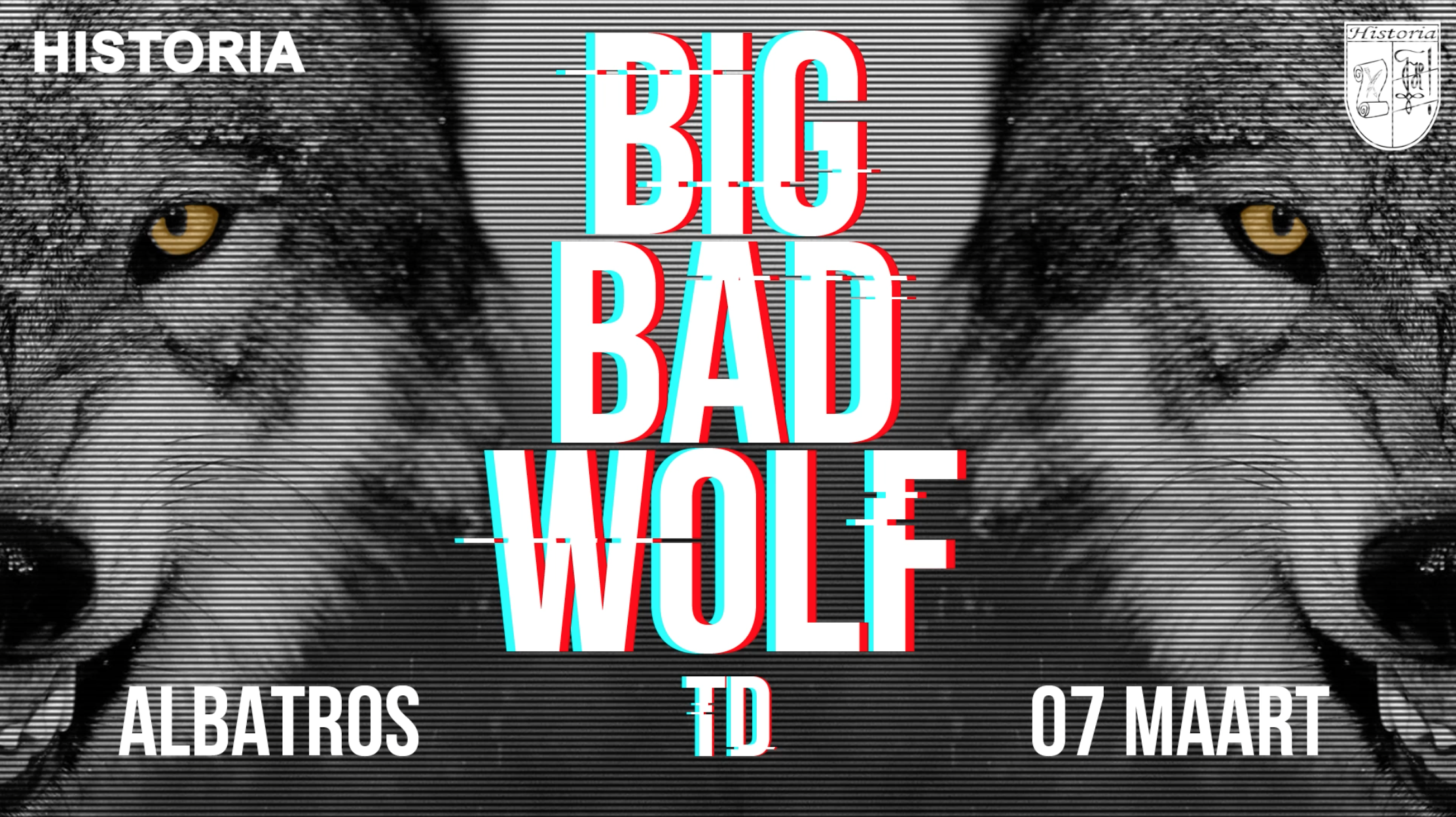 Big Bad Wolf-TD
Op 07 maart 2018 tot 08 maart 2018 vanaf 22:00 tot 05:00
[English version below]
╔═════════? Big Bad Wolf-TD ?═════════╗
Studentjes van Leuven, verenigt u! Wees geen bang saapjen en kom uw kot nog eens uit, WANT WOENSDAG 7 MAART is het zover: Historia's Big Bad Wolf TD. Ga net als Roodkapje eens van het padje en kom met de wolven dansen om er een onvergetelijke nacht van te maken.
▅▅▅▅▅▅▅▅▅▅ PROMO'S ▅▅▅▅▅▅▅▅▅▅
€1,5: shot rode of witte vodka
€3: cocktail Vodka-Pomme
▅▅▅▅▅▅▅▅▅▅ DJ'S ▅▅▅▅▅▅▅▅▅▅▅▅▅
✖ 22u-00u: LouisQuatorzé
✖ 00u-02u: Proudmich
✖ 02u-03u: Thuzz
✖ 03u-einde: The Nephews
▅▅▅▅▅▅▅▅▅▅ INFO ▅▅▅▅▅▅▅▅▅▅▅▅▅
►► INKOM
✖LID: €2,5
✖NIET-LID: €3,5
✖ERE-LID: €0,01
►► LOCATIE
✖ ZAAL ALBATROS, BRUSSELSESTRAAT 15, 3000 LEUVEN
►► DATUM
✖ 07/03/2018
✖ 22:00-04:00
[English]
╔═════════ Big Bad Wolf-TD ═════════╗
Historia is proud to present: Big Bad Wolf-TD!!!!
Students of Leuven, unite! Don't be afraid of the dark and come to Historia's Big Bad Wolf-TD on WEDNESDAY MARCH 7TH. Take Little Red Riding Hood as an example and dance with the wolves all night long.
▅▅▅▅▅▅▅▅▅▅ PROMO'S ▅▅▅▅▅▅▅▅▅▅
€1,5: shot red or white vodka
€3: cocktail Vodka-Pomme
▅▅▅▅▅▅▅▅▅▅ DJ'S ▅▅▅▅▅▅▅▅▅▅▅▅▅
✖ 22h-00h: LouisQuatorzé
✖ 00h-02h: Proudmich
✖ 02h-03h: Thuzz
✖ 03h-end: The Nephews
▅▅▅▅▅▅▅▅▅▅ INFO ▅▅▅▅▅▅▅▅▅▅▅▅▅
►► ENTRY
✖MEMBER: €2,5
✖NON-MEMBER: €3,5
►► LOCATION
✖ ZAAL ALBATROS, BRUSSELSESTRAAT 15, 3000 LEUVEN
►► DATE
✖ 07/03/2018
✖ 22:00-04:00